Open Concept Package
---
Due to the high demand for our services, your appointment for your order may not take place during the week of your order – your color kit will be ready the next business day after your appointment. * Go to FAQ page to see appointment wait time.
The base price of this package is listed above in USD currency.
Without selecting any add-ons you will get the best 3-4 main interior wall colors and the best 2 trim colors.
You can customize your options if you want different rooms or areas of your home a different interior paint color with the add-on's down below.
Each add-on you select will give you the best 3-4 paint colors that will pair best with all recommended paint colors including fixed elements.
The add-on price will calculate the total price of the add-on's you selected. The cart will show you base package price and add-on total together.
The moment you purchase your order you will receive a separate email with the link to the questionnaire. Please check your junk or email folders if you don't see it.
Customizations Total:0 $0.00
Customer Reviews
Write a Review
Ask a Question
03/09/2023
Susan Z.

United States
Open Concept
I loved working with Jacob! The process was smooth and efficient. He gave me wonderful color choices. I went with Natural Cream BM for my interior which turned out beautiful. I then used his second choice for my kitchen -Edgecombe Gray BM. My husband and I are very pleased with the results. So glad I made the choice to get the expert help I needed. Thank you Jacob!
02/02/2023
Lisa K.

United States
Great service and excellent recommendations.
We have picked our own colors all our lives but this time we were having a difficult time. After a consultation with Jacob he thankfully steered us away from our initial instincts and gave us choices that really worked. If we had stuck with our own original choice we know would not have been happy with the result. We couldn't be happier with the color we chose after our consultation. Thank you Jason - we will be coming back for more rooms.
01/23/2023
Virginia G.

United States
Best Experience
I am so very happy that we took the chance and consulted with Jacob Owens Designs. We needed something less dingy on our walls and I thought I had found the perfect color based on a friends home. Jacob politely pointed out that our fixed elements were not right with my choice and then asked some questions. A day later he sent 6 choices for wall color plus trim color and as a huge bonus, lighting suggestions. We went with the first suggestion and are thrilled with the results. Thank you Jacob!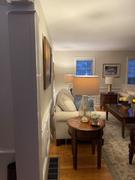 01/01/2023
Barbara S.

United States
Incredibly helpful!
10/10. Excellent experience.
12/28/2022
Celeste H.

United States
Would recommend Jacob's service to anyone
This was the most painless, stress free color selection experience of my life. I love color, and often can see the perfect shade in my mind's eye. Putting a name to that perfect shade is another story, and yet Jacob made it happen. I had to convince my husband to paint over a stained wood fireplace wall and he went along grudgingly. We went with Jacob's first recommendation and feel our room has been given new life; updated, yet true to its original 1954 style. I will ask for his help again this spring to choose colors for the exterior of our home. Bravo, and thank you Jacob!