One Room Package
---
This package includes the best 3-4 main interior wall colors and two trim colors.
Select the add-ons below to customize your package if you want other home areas to be painted differently with a coordinating color palette.
When your order is purchased, you will receive a separate email with the link to the questionnaire. Please check your junk mail folder if
you don't see it.
Customer Reviews
Write a Review
Ask a Question
11/21/2023
Kristen N.

United States
Stylish and efficient
Jacob's recommendations have all been 100% spot on to what our space needs. He doesn't just follow the trends, he looks at your space and makes several recommendations that adhere to design, preference, and current styles. That's a tall order to fill and he is flawless with it.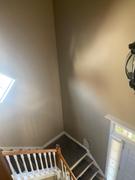 09/14/2023
Brooke M.

United States
Bathroom Refresh!
It's amazing what paint can do to update a tired old bathroom…..IF you choose the right colors! Jacob did a fantastic job of showing us the shades that would work well in our space. He was easy to work with and really listened to what we liked. The process could not have been easier and we were able to meet with him very soon after requesting an appointment. We would recommend Jacob to help with any paint project!
08/08/2023
LISA A.

United States
No Hesitation; I would definitely hire Jacob Owens Again!
If you are thinking about hiring a color consultant, I would highly recommend doing it. It is such a time saver, and ultimately will save you money by getting it right the first time without a lot of trial and error. With a recent home purchase - we wanted this home to feel open, airy, light, warm, inviting and cohesive. I have always prided myself on being strong at decorating and choosing colors and have never enlisted a consultant before, more so, an online consultant. However, this time, I just could not get the white wall color right. Jacob Owens was incredibly helpful, professional and very experienced in the use of color, light, and undertones. He put together a beautiful color pallet for our walls. In addition, I wanted to add a twist by changing the colors of my cabinets to a lower dark paint with white top cabinets. Jacob noticed the subtle things in my kitchen that we would never have noticed on our own. The results are stunning; itʻs a delight to come home and I canʻt thank Jacob enough. He really has a great eye for color and a strong knowledge of the subject that made us feel really comfortable with his recommendations. He is responsive, very precise with his explainations and welcomed any questions or feedback. You'll never go wrong calling Jacob, my color consultant to help you no matter what your budget is. My home looks like it belongs in a magazine! Mahalo, Lisa Ann Kahalewai - Honolulu, Hawaii
07/28/2023
Spencer G.

United States
Awesome office
Jacob was super easy to work with, and really helped me with picking a color for my office. It goes amazing with my house and I get tons of compliments. People on conference calls think my office is a background picture, when in fact, its the real thing. Jacob has a great eye, and I highly recommend him.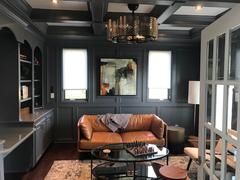 07/21/2023
Jo-Ann M.

Canada
Kitchen Cupboards
Jacob was amazing to work with. He was professional, knowledgeable, and very friendly. Jacob provided me with a written package regarding the colour or colours that best suited my project. He also said that I could email him any time with any questions that I would have. I would highly recommend Jacob for your colour consultation.
07/21/2023
Jo-Ann M.

Canada
Kitchen Cupboards
Jacob was amazing to work with. He was professional, knowledgeable, and very friendly. Jacob provided me with a written package regarding the colour or colours that best suited my project. He also said that I could email him any time with any questions that I would have. I would highly recommend Jacob for your colour consultation.
07/17/2023
Preeti P.

United States
Paint colors for the whole house
Excellent experience with Jacob! He is the very best!!! Do not paint without talking to him first.
07/06/2023
Carol T.

United States
The color guru!
I struggled with multiple trips to get samples. I even contemplated using Jacob months before I finally did make the call. Oh, if only I had called sooner. I was not even making my sample correctly. He made it so simple and easy. I kept feeling there was something not quite right with the color I was about to select for my kitchen. He confirmed it, where as all my friends missed it. His help is unmeasurable.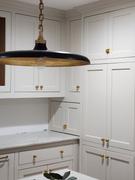 07/04/2023
Joanne S.

United States
So happy with process & end result of ceiling color on our lanai!
Very good! I could not make a confident decision and had actually used a much lighter color to start which I didn't like at all! Using a series of photos and a zoom call, Jacob provided a comprehensive dec with several options - in a ranked order. We went with his top recommendation and the result is a lighter room - but not stark given the contrast with the walls (which we couldn't change per the HOA).
05/16/2023
Brian W.

United States
Perfection exists
Jacob helped me with our master bathroom and half bath walls and cabinet color. Everything turned out perfect. Could not be happier. Then after repainting our kitchen cabinets twice I got smart and contacted Jacob for assistance. The result: Perfection of course. Thank you Jacob. You are very good at what you do AND you are a quality person. Use Jacob. Don't waste any more of your time!
05/15/2023
Teresa R.

United States
Kitchen - New Home Build
FABULOUS!!! This is my first new home build and Jacob really made me feel so at ease. He was able to look at what I had already selected and pulled it all together. I was so anxious until I talked to Jacob. He really explained the process and to fully commit to it. The Home Builder even commented on the selected that we made and how beautiful it looks. I am telling everyone I know about Jacob!!!
05/15/2023
Deanna H.

United States
Dreamy, divine, unmatched color selction
Jacob is my go to guy in all of my pain selections, since 2020 Jacob has been providing the most dreamy paint colors. An incredible process and value this is. Never any paint color regrets. Why stare at trendy colors or make a color mistake, when people like Jacob exist.
05/06/2023
Josephine C.

United States
Great experience
I have watched many videos with Jacob before hiring him. I reached out to him when I needed to have my kitchen painted. My cabinets are a cream color and were looking more yellow than I liked. I needed a color that would tone down the yellow without painting the cabinets themselves. I very happy with the results! I contacted Jacob and within a week I had a video meeting and choices of clots. I would definitely use his services again.
04/28/2023
Sandra B.

United States
One Room Kitchen Design
Jacob was very professional and knowledable. He did a great job understanding what I was trying to accomplish, and recommended a color that tied everything together perfectly. I would definitely use him again, especially for larger decorating undertakings.
04/09/2023
Donna P.

Canada
More than satisfied!
Jacob is a true professional and gentleman with a keen eye for colour. He took the time to genuinely listen to our colour dilemma & style preferences and then emailed a comprehensive kit with recommendations for both warmer and cooler colours for our kitchen cabinets and peninsula (including countertop and lighting tips). We went with his first choices and couldn't be happier with how our project turned out. Cannot stop raving about the wonderful service we received.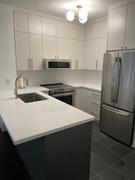 04/03/2023
Yosef P.

United States
03/27/2023
Heather B.

United States
03/24/2023
Julie M.

Canada
Excellent - Benjamin Moore Sea Salt
I renovated my bathroom and had been thinking of paint colours for months. I finally reached out to Jacob and he was fantastic. The colour recommendation was perfect. The process was easy, seamless and quick. The video interview was great and very informative. Jacob answered all my questions and was very pleasant. I would definitely recommend his services to anyone. Save yourself the headache and just do it! You will not regret it.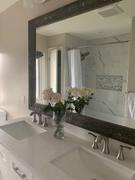 03/24/2023
Carrie H.

United States
Excellent experience!
This is the second time that I have used Jacob's service. He already had a list of colors in mind before we got on the call but he revised it as we spoke based on my comments. Any of the colors he suggested would have worked so it was easy to narrow it down to three samples and I was painting the next day. Couldn't have been easier!